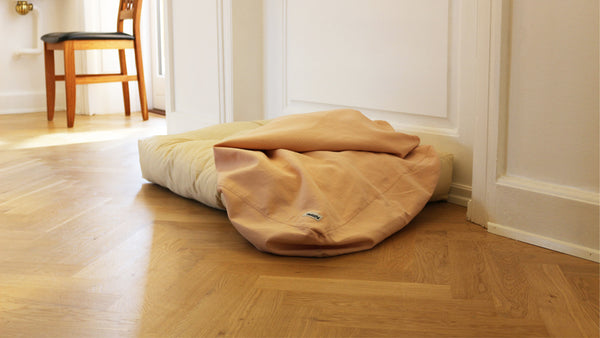 Refresh your dog bed with a new dog bed cover from tadazhi. At tadazhi, we know dogs can be a bit dirty. Sometimes there is a bit of dust left on the paws, and the fur may be a bit wet even though we have dried our dog in the entrance, or our dog may drool a little. All this can imply our dog's bed with time becomes greasy to a certain extent.
At tadazhi we believe in long-lasting relationships also in terms of relationships with things. There is no need to dispose of a good dog bed if you can refresh it with a new cover. Therefore, we offer a wide variety of extra organic dog bed covers that are easy to apply for your organic dog cushion or organic dog duvet.
All our organic dog cushion covers and organic dog duvet covers are available in several contemporary muted colors, so you can always be sure to find a color that fits into your home.
All our organic dog cushion covers and dog duvet covers are sewn in GOTS certified cotton fabrics by real people.